I haven't blogged in a few weeks. Everyone has just had to enjoy the pictures of my cats for the last little while... and even though I love them a lot and have about a million pictures of them, I thought it was about time for a real post.
The last few weeks have been ... gloomy, distracting, convoluted, busy, lazy, expensive, depressing, disappointing... go a head, choose one or all, and that's pretty much the description of my life at the moment.
In the last few weeks I have had many of the little people in my life graduate from high school, or will be graduating within the next week, (Nicole, Sam, Bryon and Kenji - Congratulations to all of them.) and it got me thinking about my senior year of high school.
Honestly, There are a lot of huge memory gaps from before my mission. When I try to think about what I did 13 years ago it's a big blank, but if some one says "Remember that time..." It might take me a minute, but I eventually get up to speed.
I have been trying to recall lately what song was the DHS Class of 1997 Senior Song. I have vague memories of the opening assembly of my senior year.. or maybe the last assembly of my junior year where the SBO's presented the senior song. I may be mistaken (if I am feel free to correct me) but I believe the Senior Song was "Right Now" - but what band was it? Van Halen? I don't remember. Maybe I'll pull out a year book and look it up...
But the most memorable song from my Senior Year was "What's The Frequency, Kenneth?" this song was played at every function/assembly/gathering of any kind at good old DHS during the 1996-1997 school year, and when I think of high school I think of this song. So as far as I can remember THIS was my "senior song".
So for today's album of choice I have decided to feature R.E.M. the creators of my high school memories...
Monster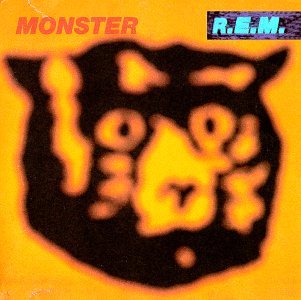 R.E.M.
What's The Frequency, Kenneth?
~*~*~
As I said, "What's The Frequency, Kenneth?" is the song I listen to the most on this album, because it has so many memories that hang on to it. It's the reason I bought this album in the first place, going back to my days of the Columbia Record Club.
As a Teenage girl I probably bought the CD and added that one song to a mix tape for the car and never listened to the entire album, 'cause that the way I rolled back then.
Eventually when I obtained a car with a CD player in I started listening to the music I owned. Driving the Honda opened up worlds of potential for my musical education since I was forced to listen to ONE CD at a time, (back in those days, poor people like me didn't have CD burners) So I listened to entire albums, multiple times, and learned to love them.
R.E.M. was one of those CD's in the Honda.
I'll admit, the only songs off this album on my iPod currently are "What's The Frequency, Kenneth?", "Star 69", and "Bang and Blame" but I do enjoy the entire Monster album.
Every time I hear any thing from R.E.M. I think of the Simpsons episode where Home has a bar in his garage and R.E.M. are there and Homer makes them mad and one of the members of the band breaks a bottle and threatens Homer with it... Michael Stipe says to the angry band member "That's not the R.E.M. way." That's a silly motto I have adopted in life.
Funny thing: Another R.E.M. song, not from this album is linked to another random memory, 2007, December 29, Gold Mazda Protégé, Pregnant Lari, and a car accident at 4th and 4th in SLC... We were listening to "Everybody Hurts."
Today's Question: Do you remember what the "Senior song" was when you graduated from High School?